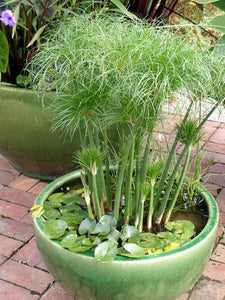 This exotic-looking beauty has a fantastic bold form and strong appeal.

Pendulous leaves sit on tall, upright stems.

A rapid grower that makes an impressive centerpiece in the landscape.

Prefers moist conditions such as water gardens or waterside and is perfect for containers without drainage holes.
.
Great for borders, annual beds and decorative containers.

An excellent marshy plant in small pools or when kept as a houseplant.

It is the dwarf variety of the Giant Papyrus, and has strong stems reaching up to 30 inches tall with tufted umbrella-like foliage on the end. The tufts are yellow-green and turn a rich bronze in late summer.